Recreation and education at SIREH Park Iskandar Puteri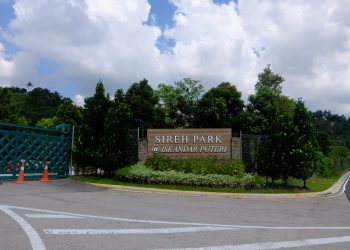 Sustainable, Initiatives, Recreational, Educational, Haven is the full name of the acronym SIREH, famously know among JB folks as SIREH Park. As the name suggests, SIREH Park serves to promote sustainable lifestyle, provide recreational areas, and become educational outdoor lab to the community in the surrounding areas.
5 Ways to Have Fun At SIREH Park
1. Exercise
Exercise is what most people do at SIREH Park. You can cycle or run on the asphalt road, footpath or dirt trail. You can exercise on the flat surface or choose the more challenging climb uphill among the three hills. If you walk non-stop circling the area through the hill and back through the asphalt, you will take around one hour. Here is an idea: stop at Zone 3, sit on the ground and listen to the sound of flora and fauna for a few minutes. You will forget that you are actually in the middle of a city for a while. It is blissful.
2. Picnic
If you don't feel like doing vigorous exercise and just want to relax with your family, you can bring a mat and meal boxes to enjoy the breeze by the lake. There are also benches that you can sit on. There are no stalls selling food and drinks in SIREH Park, so you have to bring your own food to enjoy picnic here.
Make sure you come in small groups below five in the Recovery Movement Control Order period. For groups larger than that, or if you plan to cook or do barbecue, you must ask permission from SIREH Park corporate office.
3. Camping
SIREH Park website's photo gallery features schools doing this activity there. Since the park is only open from 7 a.m. to 7 p.m., you must seek permission from SIREH Park officials to conduct overnight activities here. Toilets, showers and outdoor sinks are available to make your camping and barbecue night convenient. But due The Recovery Movement Control Order, you must follow Ministry of Health's guidelines and contact SIREH Park to understand their procedure.
4. Educational tour
SIREH Park prides itself in nurturing interests and creating awareness, understanding and appreciation of environment to the local community through educational programs. As you stroll along the footpaths, you will notice plants labeled with cards written with its names and scientific names. Other than enriching the area with more plant species, this is also good for educational purpose. If you're lucky to take a stroll with friends who are closer to nature, you will learn something new like when I discovered this caterpillar plant which fruits can be eaten. It tastes sweet with texture like passion fruit.
5. Photography
With its collection of floras, SIREH Park is a perfect natural canvas. From flowers to greens to landscape, you take your pick. You can also have fun with friends at Stream Garden which features small garden from various city councils in Johor.
A hut at Stream Garden in SIREH Park
If you have not visited SIREH Park before, here is the location to guide you. You can also visit the official Facebook page for more information about events and activities, or contact SIREH Park corporate office at 07-231 7881. Soon when Recovery Movement Control Order period is over, SIREH Park will surely be buzzing with activities again.