COLUMBIA ASIA HOSPITAL – ISKANDAR PUTERI WELCOMES FOUR MERDEKA BABIES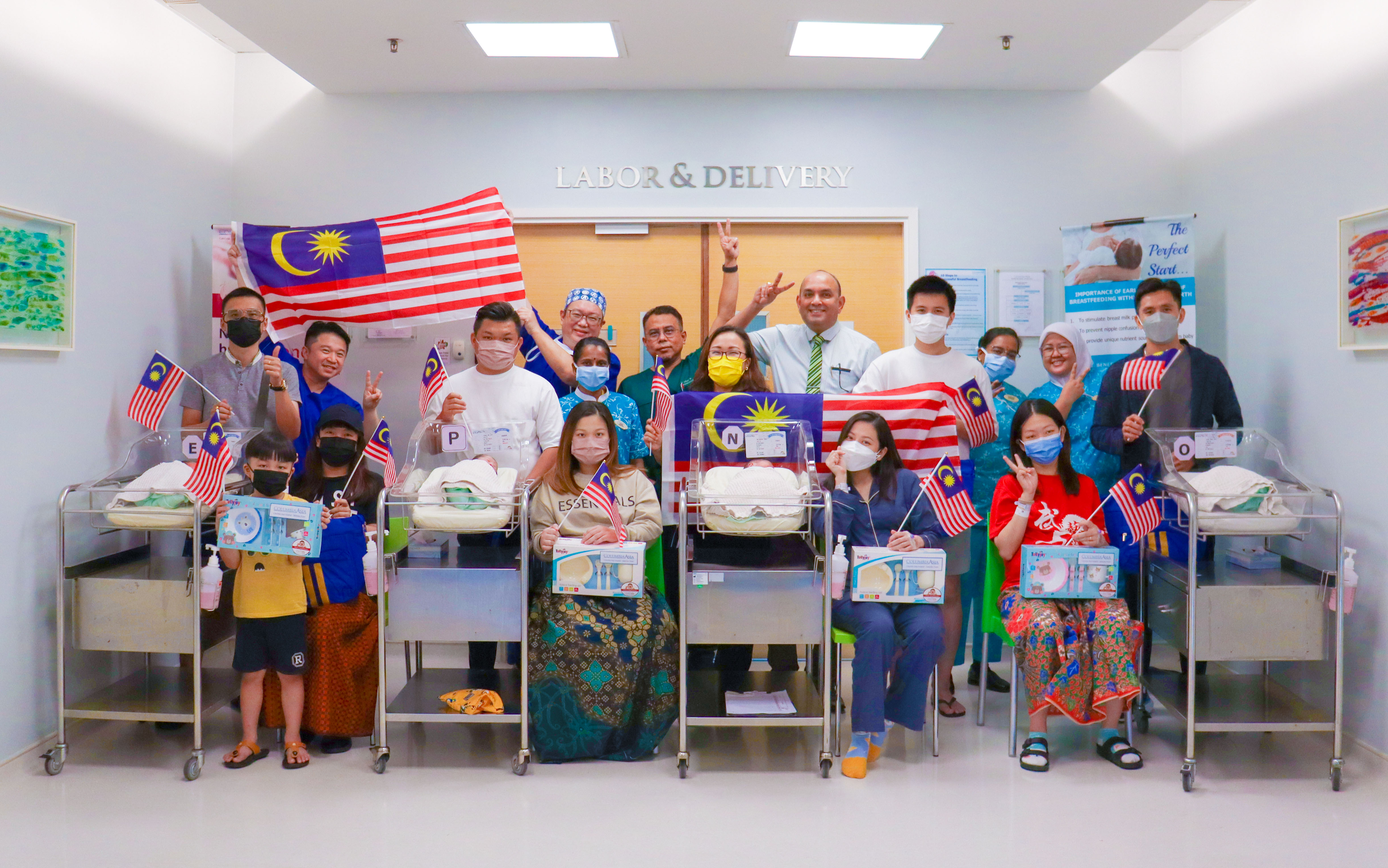 ISKANDAR PUTERI, SEP 1, 2022 – While our nation celebrated its 65th National Day on August 31, 2022, it was a bundle of joy for four mothers who gave birth to their babies on this auspicious day at Columbia Asia Hospital – Iskandar Puteri (CAH-IP).
First-time mother Chan He Lin, 27, a housewife, gave birth to a healthy and cute baby boy, weighing 3.06kg on 31st August 2022 at 1.50pm. Her husband, Lai Ken Oiang, 27, who works as a contractor in Johor felt honored because they will celebrate their son's birthday on Malaysia's National Day every year.

Another couple from Kota Tinggi, housewife Own Pei Yun, 31, and businessman husband, Tan Eng Sheng, 32, welcomed a healthy 3.65kg baby boy. She was admitted to CAH-IP on the same day and delivered the baby at 9.01am. They felt so grateful for the baby's healthy and safe delivery. The couple thanked everyone at CAH-IP for making sure everything went smoothly for them.
Meanwhile, Er Chian Chyi, 29, a marketer from Taman Eko Botani gave birth to her first child at 7.19pm. She and her husband, Chong Li Jie, 28, a marketer was blessed with a 3.16kg baby boy. The couple were thrilled and blessed that their baby arrived on such a significant day.
Cho Pao Hui, 35, a supervisor also gave birth to her first child on this auspicious day. She and her husband, Ong Jian Sheng, 33, a technician, were blessed with a beautiful 2.73kg baby girl. She was admitted to CAH-IP on National Day itself and delivered the baby at 4.45pm.
The delivery stages for all the babies were smooth and without complications. All mothers and babies are doing well under the care of Dr. Rajesh Mahendran Radha Krishnan, Consultant Obstetrics & Gynecologist; Dr. Quek Yek Song, Consultant Obstetrics & Gynecologist; Dr. Azhar Napis, Consultant Pediatrician and Dr. Victor Gong Hee Hung, Consultant Pediatrician, assisted by well-trained midwives and nurses.
We implement a safe and comfortable environment to ensure the well-being of mothers and newborn babies. Our maternity unit's consultants, midwives, nurses and support staff are committed to deliver optimum care in your pregnancy journey. We are glad to announce that our hospital has been chosen as the winner of Best Hospital in the Maternity category, at the BabyTalk & MamaPapa Readers' Choice Awards 2022 recently." Said Dr Ding Eng Li, General Manager of CAH-IP.