COLUMBIA ASIA HOSPITAL – ISKANDAR PUTERI WELCOMES FIVE NEW YEAR 2023 BABIES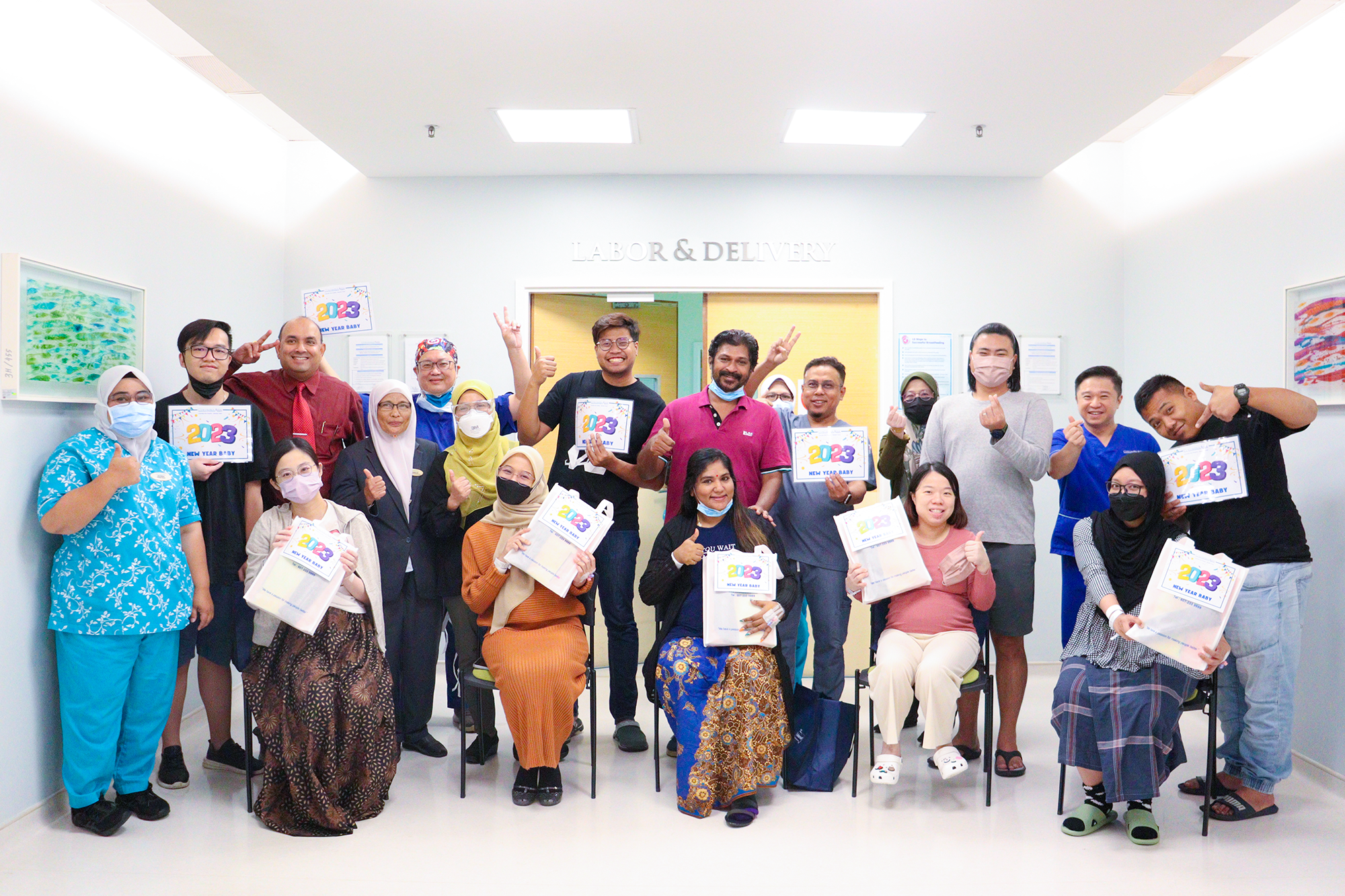 ISKANDAR PUTERI – The start of the New Year 2023 is a great time for millions of people around the world and in Columbia Asia Hospital – Iskandar Puteri (CAH-IP) this year, five couples celebrated the New Year by welcoming their new additions to the family on this auspicious day.
The arrival of a newborn marks a new beginning in every sense of the word especially for first time mother Ong Meng Han, 35, an Oil & Gas Admin. She gave birth to a healthy and beautiful baby girl, weighing 2.47kg on 1st January 2023 at 9.13am. Her husband, Yap Huan Liang, 35, a Construction Project Manager from Taman Pulai Hijauan, Kangkar Pulai felt happy because they will celebrate their daughter's birthday on new year day every year. The couple plan for the daughter to be delivered in the month January and was grateful the arrival of their newborn on this memorable day.
Meanwhile, Syazana Haironi, 26, who work in sales gave birth to her second child at 5.35pm. She and her husband, Mohamad Azim Mohd Nor, 31, an Engineer were blessed with a 3.52kg baby boy. The couple from Kampung Melayu, Kangkar Pulai felt grateful for the baby's healthy and safe delivery. Syazana was admitted on the same day and thanked the doctors, midwives and nurses for the great service and hospitality given since their first born at the hospital.
Also, on New Year's Day, Wan Suk Yi, 29, who work as a Customer Service Officer and Chua Chee Young, 30, who work in the Technology industry, were overwhelmed of the arrival of their 3.65kg daughter. The couple were thrilled and felt blessed that their baby had arrived on such a significant day and thank the doctors on advice and care given throughout their pregnancy journey.
Jamuna Kasinathan, 35, Spa Owner, and husband Selva Kumar Jaganathan, 35, a Logistic Officer, celebrated the arrival of their fourth baby, a baby boy weighing 3.66kg at 12.03pm. The couple from Bukit Indah has been with CAH-IP from their first born and happy for the arrival of their fourth child on New Year Day. They felt grateful for the baby's healthy and safe delivery.
Another couple from Taman Pulai Mutiara, Noor Azmidar Md Isa, 35, an Executive in the Telecommunication industry and husband, Mohammad Fahmi Yusuf, 35, who work in a Manufacturing industry in Singapore welcomed a cute 3.27kg baby girl. She was admitted to CAH-IP on the same day and delivered the baby at 4.26pm. The couple thanked everyone at CAH-IP for making sure everything went smoothly for them.
All mothers and babies were well under the care of Dr. Rajesh Mahendran Radha Krishnan, Consultant Obstetrics & Gynecologist; Dr. Rohaini Md Jonit, Consultant Obstetrics & Gynecologist; Dr. Quek Yek Song, Consultant Obstetrics & Gynecologist; Dr. Razlina Johari, Consultant Pediatrician; Dr. Victor Gong Hee Hung, Consultant Pediatrician; and Dr. Azhar Napis, Consultant Pediatrician, assisted by well-trained midwives and nurses of CAH-IP.
"What a way to start the new year. We felt excited with the new arrivals for all the parents, but most importantly was the safe delivery of the mothers. At CAH-IP, we implement a safe and comfortable environment to ensure the well-being of mothers and newborn babies. Our maternity unit's consultants, midwives, nurses and support staff are committed to deliver optimum care in your pregnancy journey. We are glad to announce that our hospital has been chosen as the winner of Best Hospital in the Maternity category, at the BabyTalk & MamaPapa Readers' Choice Awards 2022 and Best Hospital (Pediatric Category)- Johor Bahru, Johor, at the Natural Health Readers' Choice Awards 2022 recently." Said Dr Ding Eng Li, General Manager of CAH-IP.