5 Recreational Places to Enjoy Breaking Your Sweats in Iskandar Puteri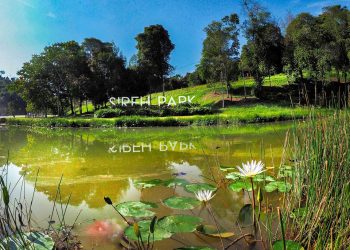 Fancy a jog with beautiful scenery, an outing with your whole family or experiencing challenging games with your friends? I give you 5 places you can go for recreation with your family and friends in Iskandar Puteri. Whether you prefer a jog alone after work, strolling at a park on the weekend with family or challenging yourself with go-kart with a group of crazy friends, you can find them all at Iskandar Puteri.
1. Edible Park Edible Park was launched in March 2018 by Medini Iskandar Malaysia Sdn Bhd (MIM) as an initiative to bring the local community closer to the environment. Equipped with workshop studio, cafe, designed gardens and organic urban farm, this park is a fun recreational place to bring your family for activities, especially on weekends. Conceptualized and designed by Chris Parry, this park is lively with activities such as farmstand market every first Saturday of the month, yoga class on Sundays and many more at their open-air gazebo. You can join these activities, take your kids on an educational stroll across the park or simply go for a walk around. Edible Park Social Media Even though most activities now come to a halt because of the pandemic, like and follow their social media for more information about their future activities. https://www.facebook.com/medinigreenparks/ https://www.instagram.com/medinigreenparks/ Edible Park Location https://goo.gl/maps/EXPVFC3eg1kL1MFx6
2. SIREH Park SIREH is an acronym for Sustainable, Initiatives, Recreational, Educational, Haven. Located in Horizon Hills, this park is a must-go place in Iskandar Puteri if you're a jogger. An ideal recreational place for runners and bicyclers, this place is suitable for all from beginners to expert as there are a number of routes to choose from. You can either stroll on the pavement or run uphill on the trails. With its tree-planting project, a visit to SIREH Park can also be an educational walk for your children because all newly planted trees are equipped with signage. The Oddities & Unusual Garden is an Instagram-worthy site on SIREH Park for you to have fun taking memorable photos. Next to it, the rose garden is also a sight to behold. Two hours easily pass if you're enjoying this whole park. The park is differentiated into four zones: •Tropical Floral Park – featuring colourful garden landscape, open-ground event spaces and learning facilities; •Lake Park – a recreational and relaxation space centred around an existing lake; provides venues for camping, cycling and water-related activities; •Forest Park – designed for outdoor recreational and educational activities, featuring an arboretum; •Legacy Forest – a high bio diversified forest area for scientific and conservation purposes. SIREH Park Website SIREH Park is always buzzing with activities like Spartan Race, fun run, fair, tree planting and more, and more will surely resume after the pandemic subside. Check out their website to learn more. https://sirehpark.weebly.com/ SIREH Park Location
https://goo.gl/maps/gCmE3WTDEWCFzB5PA
3. Educity Sports Complex Educity Sports Complex consists of the main stadium, an indoor arena, gymnasium, outdoor courts and aquatic centre. The main stadium is a 6,000 seater stadium including a running track and football pitch. The indoor arena features multi-function court, suitable for basketball, badminton, table tennis, and martial arts type events. There are also three tennis courts, a volleyball court and a futsal court outdoor. EduCity Aquatics Centre consists of a 50m swimming pool, with seating for 488 spectators. EduCity Sports Complex is a part of EduCity Iskandar which is a multi-campus education city consisting of universities and higher education institutions. Other than the top-notch facilities you can enjoy here, this complex is filled with activities like Chillax Market and Kimchillax for the public. EduCity Iskandar Website and Instagram Visit EduCity Iskandar website and follow their Instagram to know more about EduCity Sports Complex and the activities held there. https://educity.com.my/ https://www.instagram.com/educityofficial/
EduCity Sports Complex Facebook https://www.facebook.com/educitysport/
4. EnergX Park Sunway Big Box EnergX Park is an indoor amusement park in Sunway Big Box. Over a dozen activities, including go-kart and trampoline, you can go here for recreation with friends, birthday party with family or just to have fun breaking sweats with the challenging activities. Check out this video to look inside EnergX Park https://www.youtube.com/watch?v=Gq003fHxgbE EnergX Park Website and Social Media https://www.energx.my/ https://www.facebook.com/EnerGX.my/ https://www.instagram.com/energxpark/
Location of Sunway Big Box https://g.page/SunwayBigBox?share
5. Xpark Sunway Iskandar Xpark Sunway Iskandar located beside Sunway Iskandar's Big Box. The first integrated extreme park in Johor, with activities that we can enjoy here, includes ATV, skate park, go-kart, flying fox, aqua walk and Motorcross. You can also enjoy camping and glamping here. Check out this video to catch a glimpse of activities in Xpark Sunway Iskandar https://www.facebook.com/visitjohorofficial/videos/xpark-sunway-iskandar-iskandar-malaysia/579521759638880/
Xpark Sunway Iskandar Website and Social Media http://www.xparkmalaysia.com/ https://www.facebook.com/xparkmalaysia/ https://www.instagram.com/xparkmalaysia/
Xpark Sunway Iskandar Location https://goo.gl/maps/ywH4P282rT45LWka8
Which recreational place in Iskandar Puteri are you going to visit first? Whether you decide to stretch your legs with your kids or pumping your adrenaline with extreme activities, you will surely enjoy your time at Iskandar Puteri.