2 new blockchain companies joined into [email protected]
IIB Ventures Sdn Bhd (IIBV), a wholly owned subsidiary of Iskandar Investment Berhad (IIB), welcomed two new blockchain companies, Synapse Innovations Sdn Bhd and Holistics Lab Sdn Bhd, to the Blockchain Village @Medini ([email protected]) today which was announced during the Iskandar Global Innovation and Technology Exchange (IGNITE) Blockchain 2021.
Both companies would explore opportunities related to the Artificial Intelligence (AI) and Blockchain through their Centre of Artificial Intelligence Research for Blockchain (CARBON) and Centre of AI Research in blockchain in Halal Traceability Ecosystem in Medini, respectively.
Managing Director of IIBV, Encik Zulfiqar Zainuddin exchanged documents with the two parties Founder & CEO of Synapse Innovations Sdn Bhd, Ts. Dr. Afnizanfaizal Abdullah & CEO of Holistics Labs Sdn Bhd, Dr Mohd Iskandar Illyas Tan to mark their operations in Blockchain Village @Medini ([email protected]). Witnessing the exchanges was the President/ CEO of IIB, YBhg. Datuk Ir. Khairil Anwar Ahmad.
IGNITE, which is the acronym of Iskandar Global Innovation & Technology Exchange, is a key focus and strategic initiative under the ISKANDAR NEXT programme and one of the tracks is organised under the Blockchain Village @Medini. This year, a series of online events are held from July to December 2021. It connects the key industry players, enablers, and enthusiasts on one platform to ignite ideas and create opportunities towards innovating new and better solutions for the future.
President/CEO of Iskandar Investment Berhad (IIB), Datuk Ir. Khairil Anwar Ahmad said, "We are indeed delighted to see more blockchain businesses setting up in Medini Iskandar Malaysia which also would create more high-value job opportunities within Iskandar Puteri. Synapse Innovations Sdn Bhd and Holistics Lab Sdn Bhd are projected to create 205 high-value jobs, with RM52.4 million of investment value at an approximate average salary of RM5,000 in the next five years."
"The IIB Group of Companies will continue to spearhead efforts in support of Malaysia's National 4IR policy and Digital Economy Blueprint as well as Johor's state-wide digital aspirations with initiatives such as [email protected] and IGNITE," he added.
[email protected] was launched by Johor Menteri Besar in October 2019 and have secured a total of 1,045 jobs with RM323.4 million in investment value and an average monthly salary of RM7,500. The [email protected] companies include those from Japan, Singapore, India and local Malaysian companies providing many solutions and offerings, including intelligent Waste Separation & Tracking, Venture Builders & Aggregator, Blockchain Commerce (B-Commerce) products and also document management using blockchain.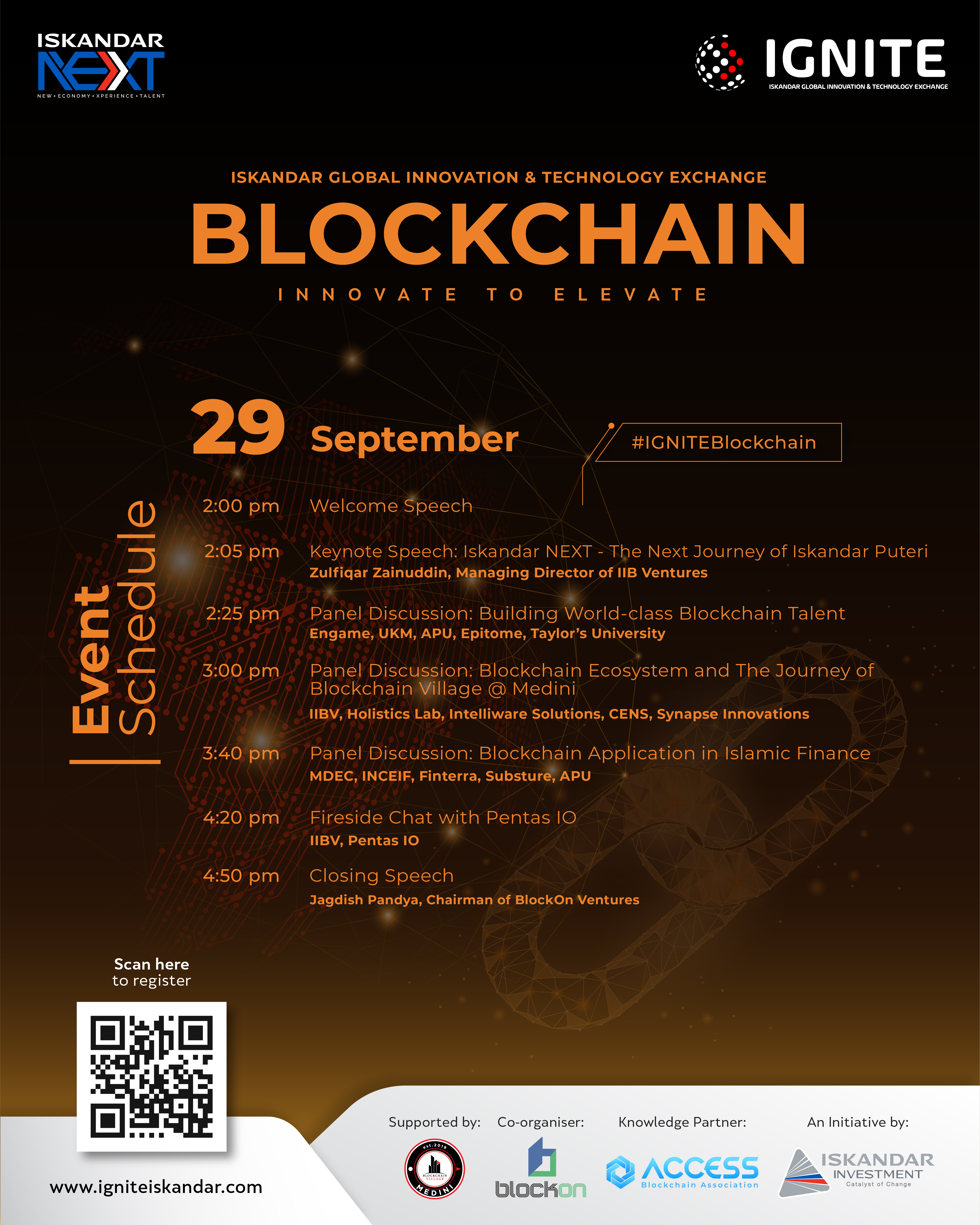 The IGNITE Blockchain webinar will be held on 28th and 29th September 2021, featuring industry leaders and experts from the blockchain and the respective fields. For more information about the program, please visit www.igniteiskandar.com